August 20th, 2013 by Gage Pacifera
Not long ago a colleague introduced me to Calagator.com, an awesome site that serves as a directory of techie events going on in and around Portland. The Calagator is a wonderful, wonderful creature. It lists a ton of local educational sessions, coder meetups, hacker groups, etc. I've gone to several events and have met a lot of cool people, learned some new tricks and generally have left the various sessions feeling more connected to the tech community here in Portland and more excited about this field of work I find myself in. I went to a couple of good sessions recently and thought I'd share some of my takeaways.
Social Local Mobile Marketing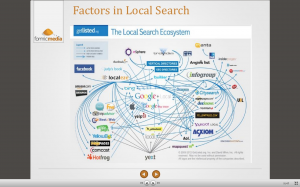 Wendy Hwang at Formic Media gave a very informative talk about some of the techniques her company uses to improve local search results for brick and mortar businesses. Some strategies for businesses that she suggested included:
Get into online directories, both the big ones like Yelp, YellowPages and City Search, but also local directories to add some additional weight to the ranking.
Make sure to have a Google Places page to improve Google search ranking.
The business website should have a click to call feature and list the address prominently.
Ensure that your NAP info (business name, address, etc.) is totally consistent everywhere it is listed. For example, if you abbreviate Street as St. in your address, make sure to do it everywhere.
Reviews and ratings from sites are important. Businesses should customers to leave ratings on popular review sites.
Use social services like Google Explore, Facebook Places and Foursquare.
Digital loyalty apps like PlacePunch, Google Offers and Apple Passbook can be effective to entice customers into your store.
Startup Discussion with Al Vermeulen
Al Vermeulen help found a few startup tech companies and then was the CTO of Amazon.com, which he says still operates much like a startup. In his Q&A-driven discussion he advocated putting a special effort into finding the right people. Your cofounders need to be totally on board with the mission of the company and startups should avoid simply looking for talented specialists. Flexibility and personality end up playing a very big role in how much the person contributes to the overall success of the venture.
Al also stressed the importance of being able to say no to money with too many strings attached. Sometimes a market-savvy investor will make seemingly reasonable demands on the company that aren't consistent with what the company is actually trying to do. More often than not, it's better to turn down that money and make sure that the company has investors that are in sync with the overall vision, even if that means starting with a smaller budget or delaying plans. Of course, getting startups off the ground is difficult and that's often easier said than done.