September 26th, 2013 by Gage Pacifera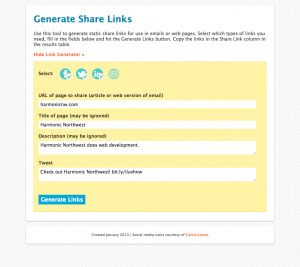 I put together this online tool a while back to help generate social sharing links that can be used in emails. At the moment it generates links for Facebook, Twitter, LinkedIn and plain ol' email.
http://tools.harmonicnw.com/sharelinks/
There are some other tools out there that get at the same functionality, but they either didn't work very well for me or didn't have all of the different channels I was looking for. I'll list those below in case you want to check them out yourself.