October 23rd, 2013 by Gage Pacifera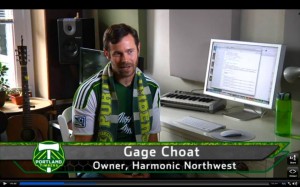 The Portland Timbers media team recently featured me in one of their We Are Rose City fan profile videos. Check it out here:
http://www.portlandtimbers.com/video/2013/10/15/we-are-rose-city-gage-choat
In the video I talk about my path to getting into web development, running Harmonic Northwest, playing soccer, supporting the Timbers and making music with my band.
The video aired on the Jeld-Wen field jumbotron during halftime of the Timbers victory over the Sounders on October 13th. My buddies from my section and I got a kick out of seeing my goofy mug up on the big screen for a couple minutes in front of 20,000 fans. The video was also featured on the Timbers home page for a while.
It was a little weird filming in my apartment, but it was a fun process. It was very DIY.. just two people, one who directed the questions (Jennifer) and another managing the lights and cameras (Che). They used a fancy digital camera plus a Go-Pro shot from below. For lighting they used a combo of natural light from my windows and a close-in smallish LED panel aimed directly into my retinas. The whole thing probably took like 45 min, which was quicker than I imagined. These guys clearly knew what they were doing.
I'm pretty stoked about the Timbers cinching their first playoff appearance and am definitely renewing my season tickets for the 2014 season. Rose City 'til I die!