July 28th, 2014 by Gage Pacifera
Last Wednesday I had the chance to stop by OSCON, a sprawling open source conference sponsored by heavyweight technical book publisher O'Reilly Media. I was impressed with the sheer number and variety of sessions offered there. I was able to attend a couple of great talks, one on high performance visualizations (note to self: must… learn… D3… ASAP) and another on bringing more women to open source software. The latter had lots of good tips that I think are equally applicable to working with student groups… I'm looking forward to applying some of that information to my work with the FHS App and Innovation Academy.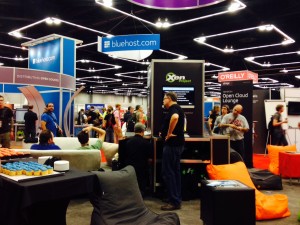 The expo hall was packed with companies trying to one-up each other in open-sourcedness and variety/awesomeness of company swag. Several offered swanky chill-out areas filled with beanbag chairs and cozy couches resting on roughly 12 square miles of fancy carpeting laid atop the concrete flooring for the event. I had a great conversation with couple of the guys from Github and even walked away with some helpful quick reference guides for my FHS App students.
I was surprised to see that the awesome folks from Fort George Brewery helped sponsor the after-hours booth crawl. They had countless pints of Cavatica Stout, 1811 Lager and Vortex IPA on hand for the conference participants. These guys are doing a really awesome job promoting themselves and getting their delicious beer into the mouths and minds of craft beer-loving Oregonians.