March 9th, 2016 by Gage Pacifera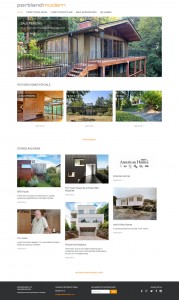 There are some amazing properties featured on the portlandmodern website. Real estate agent Bob Zaikoski does a great job not only in curating some of the most appealing, architecturally significant dwellings in the Portland area to feature on his site, but also in elaborating on the buildings and builders through his informative blog-format posts that often feature videos.
You can check out the site here:
Bob enlisted Harmonic Northwest to replace his clunky old site with a shiny new one that refreshes the visual layout and enables him to easily manage the site content. HNW came up with a friendlier, more utilitarian design that is easy to use and focuses attention on the property photographs. We integrated several notable features into the WordPress site including a customizable home page carousel, a carousel of featured properties, a contact form indicating a property of interest and a seamless integration with the IDX property management service that allows users to link directly to selected MLS listings.