March 17th, 2016 by Gage Pacifera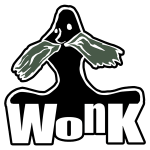 Kyle Newacheck is a man of many talents. Some may even go so far as to call him magical. He directs the hit Comedy Central show Workaholics, fronts irreverent indie band Fade Up Fade Out Bye Bye, produces award-winning documentaries [citation needed], has an impressive catalog of Hard Core Wrestling footage and amalgamates all of his creative content under the umbrella of his up-and-coming business Wonk, Inc. I was stoked when Kyle approached Harmonic Northwest to help him extend his considerable creative talents into the interwebs.
The primary goal was to show off his video work in a way that kept things simple—we felt that that the videos could speak for themselves. We put together a highly responsive WordPress site that tied directly into his Vimeo account so that the work he posted there would automagically populate to the main site. We later added in a link to the Wonk Inc. Shopify site where he sells Wonk ball caps and band merchandise. The whole thing is simple and cool and conveys a sense of the staggering amount of creative material that Kyle puts into the world.
You can check out what we put together here:
I'll peace out with this, probably the best known track by Kyle's band Fade Up Fade Out Bye Bye featuring gansta-rapping wizards, blunts and malt liquor. You're welcome.