February 10th, 2020 by Gage Pacifera
Small details can a big difference—this is true in the realms of both interior design and website creation.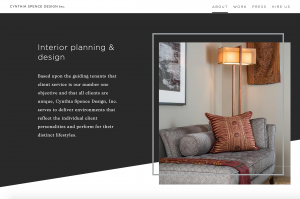 Cynthia Spence is well-attuned to finessing small details in her work designing customized living spaces that are in touch with the demands of the 21st century. Her website, an extension of her work, exudes elegance in its attention to small details. Parallax effects subtly frame carefully curated imagery, elegant black-and-white background colors showcase vibrant photography, typography is clean and crisp, and negative space abounds. The website experience projects a similar blend of elegance and comfort that Cynthia has built a career on.
A version 2 of the site is in the works and the current version is archived here:
iheart.harmonicnw.com/cynthiaspence-2019/
The amazing Jameson Spence designed the site, adding to a growing list of projects in which he has led design with Harmonic Northwest executing on development. All site content is fully customizable via WordPress. Special attention was given to making the portfolio pieces easy to create, edit, and publish.