December 3rd, 2014 by Gage Pacifera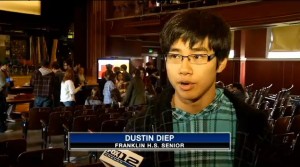 For the past couple of months, the focus of the FHS App team has shifted from coding to promotion. Those efforts culminated in a launch event held in the school auditorium that featured speeches from the vice principal and student body president, a Mondopad demonstration, sixteen large pizzas (that were quickly devoured) and onsite coverage from FOX 12 News. The FOX segment aired that evening on the 5:30 TV broadcast. Check that out here:
http://www.kptv.com/story/27468640/franklin-high-school-students-create-school-announcements-app
With the app already fully functional and available in both the Apple App Store and on Google Play, the next big challenge for the students is to get the app into the hands of students, teachers and administrators at Franklin High School. And so far, so good. The app has some great buzz and more and more teachers are signing on to track assignments. Administration officials have offered helpful suggestions and are interested in expanding the app's footprint to include not just the school, but the entire district!
This project continues on with support from the Techonology Association of Oregon, the SUN Program and Innovation Academy in a coordinated effort to bring hands-on technology education to Oregon schools.
Past posts about the project:
https://www.harmonicnw.com/2014/06/fhs-app-now-app-store/
https://www.harmonicnw.com/2013/04/introducing-the-franklin-high-school-app/
https://www.harmonicnw.com/2012/12/how-many-devices-does-it-take-to-test-a-web-app/
https://www.harmonicnw.com/2012/07/franklin-high-school-app/